With the help of DNS devices connected to the net, translate a readable domain name to a machine-readable IP Address. Now, a question might come to your mind: What happens if the resolver is either insecure or not trustworthy well ISP resolvers are not encrypted and much privacy friendly. 7 Best DNS for Ad Blocking allow you to block and remove ads on your devices including Android.
What is an Adblock DNS?
An Adblock DNS is a DNS server that blocks advertisements and allows you to use the internet free from any ads. It works by changing the DNS server of your devices such as Android or PC. Alternatively, you can change it in your wireless or wired router and it will automatically assign the Adblock DNS IP to the devices. There is no harm in using ad-blocking DNS IPs and they are much safer from viruses as they block harmful advertisements too and provide some form of protection so your data doesn't end up on the dark web.
Normal DNS Vs. Adblock DNS
Conventional DNS that your ISP provides have its own drawbacks but it doesn't stand much of a chance in comparison to privacy-driven adblock DNS servers.
| Normal DNS | Adblock DNS |
| --- | --- |
| Tracks your online activitu | Doesn't track your online activity |
| Doesn't stop harmful advertisements | Blocks harmful ads on Android, iOS and PC |
| Doesn't block malware or viruses on websites | Some block viruses and malware littered websites |
| May have downtime and outage at times | Minimal outage as many services such as Cloudflare Warp have multiple servers around the world |
| These are provided for free | Some may be paid and some may be free but not all of the |
7 Best DNS For Ad Blocking – Adblock DNS for Android, iOS and PC
Quad9 – #1 Best AdBlock DNS

This is a non-profit organization which operates DNS resolvers that are both privacy-friendly and high-performing in nature. These are found around the globe. The best part their infrastructure spans 150 locations in 90 different countries, which is a lot.
There aim is no logging, retaining no personal data regarding users who utilize their servers. To use service you don't need to sign up, the IP addresses for their DNS servers are listed and present for everyone to use at personal will.
For now its location is Switzerland after relocating from the US. They are working hard to incorporate themselves in Switzerland fully. This is a big deal and Switzerland carries most robust customer data and online privacy as compared to other countries.
Among many features, it comes with threat blocking on all servers; when using 9this it shall deny connection to known malicious domains automatically thus promoting and taking security of devices to the next level.
It also provides servers without threat blocking, you are given the option to choose to which you want to connect with. It is suggested to use server that uses threat-blocking technology as it is effortless increase in device level and security of network.
The known malicious domains are being provided by different threat intelligence entities having a partnership with Quad9 and get an update on regular terms to offer you with better security against new threats.
Cloudflare Warp DNS – Reliable Ad Blocking DNS Provider

In the privacy community CDNs usually fall in the black area of privacy community, they function to be the third-party middle man between devices' connection to a site or service. In this, it provides load balancer and reverse proxy services for sites that employ them.
It will also provide public DNS service which is located at 1.1.1.1 and the best part it is security friendly. Its resolver blocks and filters all the malicious domains automatically and dot not offer traditional ads or tracker blocking.
It has its very own list of malicious domains which are not resolved by the server when request for connection matches domain on list. No connection is made if domain is not resolved which promotes safe browsing experience.
Now, its DNS server also does not engage itself in some logging as present on their site. It claims to anonymize a lot of collected data and to purge it within a total of 25 hours. It also limitize itself to engaging with third-party sharing of sample sizes of logged data with different organizations such as APNIC.
It has no compatibility with DoT and comes with in-house infrastructure. Moreover, it is also trusted partner of Mozilla to deliver FireFox's DNS-over-HTTPS feature.
ADGUARD 2.0 – Free Ad Blocking for Android

A company which is popular for its adblocking services. In 2022 they relaunched their DNS service called AdGuard DNS 2.0.
On network level it provides you with different services including adblocking and technology. It is designed to block annoying ads, trackers and malicious domains that are known. Version 2.o has compatibility with DoH, DoT and DNNCrypt protocols. The new infrastructure comes in free. This version has also introduced you with personalized filtering allowing you to customize blocklists.
It is located out of Cyprus and uses Anycast for its services which helps to promote fast DNS resolving speed from any part of the world. Choopa and Serveroid host their infrastructure for DNS resolver services.
It does feature some logging as present in their privacy policy.
The best part is they don't collect personal data like IP addresses but do store aggregated performance metrics for their DNS servers. This information includes data as complete requests to another server, number of blocked requests and speed of processing them.
Moreover, they both keep and store an anonymous database of domain requests within last 24 hours. Be sure that this is not shared with any third parties.
It has compatibility with DoT and DNSCrypt protocols and also publish their server source code for review on GitHub.
DNSWatch – An upgrade to AdGuard DNS IPs
It provides support for net neutrality and does not filter any content with its DNS. It also does not log any DNS queries or user history. To cut the long story short it will never share your data or sell it because it does not collect any.
It has compatibility with DNSSEC and DoH but a few other things such as protection against phishing websites or malware sites are up to you. It promotes its refusal to do any hijacking or failed requests.
An ISP will send you a sponsored search page if the site is not responding. All entered into the site is logged by your ISO, it does not do that and shows you the browser's default bad connection page.
NextDNS – Free Ad Blocking DNS

This is a popular choice on the list with more than 130 different server locations and is trusted choice of Mozilla.
It has been designed to protect you from security threats that block ads and trackers on sites and apps across the internet. It is easy to set up and configure custom DNS with this and will only take a few minutes.
The best part is that it provides with extensive analytics and logging information which can be used to measure how you are protecting your security. You can also have a glance on what sites and trackers you are stopping and you if you do not wish to be logged then there is option to toggle it off.
With kids this is a great choice. It has in-built parental control options which you can toggle on and adjust accordingly. It includes setting recreation time where selection games and websites are present along with options to restrict few kinds of content.
READ TOO: The Best PiHole Block Lists Compiled Together.
Public DNS from Google – Robust Adblock DNS Provider
This is open-source and comes in free for all including business use. It is robust in nature and a reliable service with a fast response time. The best part you all know that Google is not going away.
It has compatibility with DNS over HTTP and DNSSEC. Moreover, it also includes protection against DDOS attacks.
The only downside is Google, you all know that it generates revenue by harvesting data and uses it to target ads, it then shares data for a certain fee with third parties. This means it marks high for robustness and security but not too much for privacy.
What Google says is data is anonymized with no personally identifiable information in it so it may not bother you at all. If you are a pure user of Google like Gmail, Android and search engine then it won't learn much more about you than it already does.
It is not for you if you do not want to engage with their big tech, big data, big brother corporate machinery.
DeCloudUs – Adblock DNS Server Service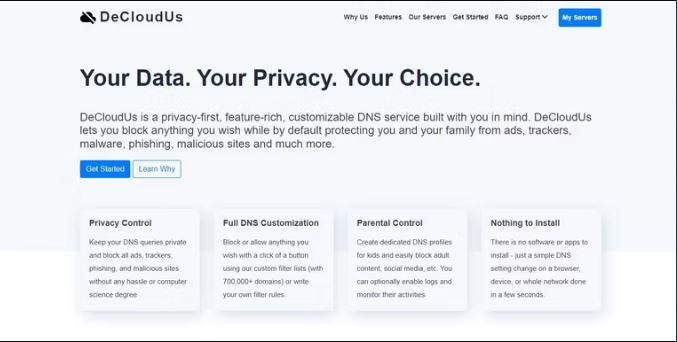 This is a great choice if you are looking for an ad-blocking DNS server which comes rich in features. It is designed to block ads, malware, trackers, phishing and a lot more.
This best part it can be customized according to choice and carries features like full DNS customization, custom filtering lists, parental controls and much more.
One downside is that features are locked behind premium plans. You require a premium account for more server option, DNS stats, and custom DNS profiles. DeCloudUs on the other hand is used for free but will limit to single sever in Germany and cut access to many other features.
READ TOO: 6+ Best Chromium Browsers that are also Privacy Friendly.
Conclusion: Free Adblock DNS
Ad blocking is a double-edged sword. Publishers and websites like us need them to survive with server hosting costs, maintenance and domain renewals. This is where we may use ads to recover such costs. However, some users don't like such advertisements tracking their interests online. Best Adblock DNS is recommended so you are using a DNS server that respects your privacy and doesn't keep track of your browsing history.