If you are one of many who wants to know how to read articles for free behind a paywall on Chrome and Mozilla Firefox then you can use any of the free methods including incognito search, free Chrome Bypass extension and blocking Javascript.
Paywalls are a method to restrict access to online articles through paid subscription pop-ups. Digital content providers such as newspaper or magazines and respective publishing houses use this to monetize their sites. Users of web can no longer read a spectrum of online content for free and in spite of increasingly being met with paywalls.
What are Website Paywalls and reason behind them
Its concept has been there in the analogue publishing industry in the form of subscriptions. You need to complete the subscription if you want regular access to current articles and content of print product. To get newspaper you need to pay whereas in the past all print media was financed by subscriptions, retail sales, ads and continue to do so to a lesser extent today.
Today the revenue made through print media subscriptions and retail sales has decreased as during the 2000s the greater amount of digital content belonging to newspapers was still free.
Around 2014 limited users bought newspapers physically, net became the main source of information gathering and it changed the behavior of the readers too. Print versions were rarely bought.
Journalistic content today is mostly read online therefore publishers need to devise ways to monetize their journalistic work online hence the reason for payment barriers.
Hard Paywall – Full lock on content
The ones who have not completed a digital subscription with the provider can't read any their articles. This is not a common barrier as when readers stumble across hard paywalls they are inclined to find desired information elsewhere. The risk that the otherwise interested readers should leave for a competitor is quite high.
The number of visitors on websites is affected by tough payment barriers due to which few advertisers may be prepared to show their ads on such platforms. Popular newspapers and magazines with this that currently adopt this are The Financial Times and WSJ (Wall Street Journal).
Soft Paywall – Partial lock with readability
This is used to provide with free content and premium offers. You can read big selection of articles on sites using this without paying a single penny or completing the subscription. Articles of individuals are however offered as premium content and are visible to the ones who pay. This is a common method used to partially monetize digital content in the newspaper landscape. It has popularity in Germany and France whereas in UK this content type is rare, with only 5.5 of publishers putting it in place.
Dynamic Paywall – A smarter way to lock articles
There are different dynamic payment barriers that exist and perfectly adapt to the behavior of the site visitor in real time. The publishers can evaluate data on returning customers and user profiles. After a little time, they are able to understand their habits and interests in reading and how they choose articles each month.
If you return to the page many times in a day to read business news, it shall point to the payment barriers quickly, whereas if you visit the page rarely in a week and read some articles you shall be able to read the content of for free. This is employed by the New York Magazine. The challenge here is to deliver value so that the readers return.
Voluntary Donations – Optional payment to read content
This is seemed to be most unobtrusive model for payment to monetize digital content. Million plus users have financially contributed to The Guardian so that it stays free and outside of paywall either through one-off or ongoing support to help make the newspaper sustainable.
In here the donations made are made by readers who value the independence of the newspaper's editorial and commit to investigative reporting.
PRO TIP: You can set up a Raspberry Pi-Hole with the latest blocklists to automatically bypass paywalls and advertising on every website and app on your network.
6 Ways on How To Bypass Paywalls on any website for Chrome and Firefox
Various methods are legal for you to use for bypassing Paywalls on intrusive websites. Some of these may not work on the website of your choice as they may have mitigations but you can always try and test them. The 6 working ways below will allow you to read articles behind a paywall without needing a subscription:
Bypass Paywalls Chrome and Edge
Stop Paywall Script from Downloading
Disable the use of JavaScript
Use Incognito Mode Trick to your advantage
Reset your browser cookies
Take a snapshot on an Archive Website
1. Bypass Paywalls Chrome and Edge
This is an easy way and works on different sites but only if you know how to add extensions to browser. If you are not familiar with extensions then don't worry and follow the steps below:
From the GitHub repo, you need to click on "Code" and then "Download Zip".
You shall get a prompt, hit "install" and then click on "add".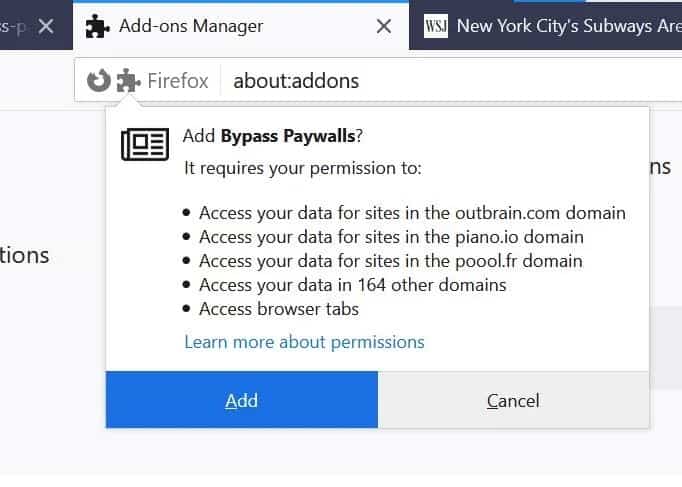 As the process of installation is done you shall see a list of sites that are compatible under the add-on manager tab.
You can now alter your selection and hit "save". Be sure that the extension is "enabled" else this shall not work.
Now use WinRAR or 7-zip to unzip the file.
That's it folks!
NOTE: The above process is the same even if you are running Chrome OS as its only an extension.
2. Stop Paywall Script from Downloading
On certain sites the pop-up paywalls tend to be the last one to get loaded, a quick solution to this is you stop loading sites.
To stop the paywall script from loading follow the steps below:
You need to go to the "address bar".
Right beside this, you need to click on the "X" icon to disable Javascript on the current website.
You can also open "developer options" go to "console" and stop the paywall script by loading.
Reload the page and the paywall will disappear now.
This method instantly stops the website from loading and prevents the paywall from popping up.
3. Disable the use of JavaScript
Some sites may use JavaScript to enable their paywalls. Another way is you disable this function from the browser.
Keep in mind that doing this shall cause issue with the overall visual features on other sites so we suggest that you temporarily disable it.
To disable Javascript on Google Chrome follow:
You need to go to top right corner and click "three dots".
Choose "settings" option.
From left panel you need to click on "privacy and security".
In here you need to choose "site settings" and search for "Javascript".
Check option which says "don't allow sites to use Javascript".
To disable Javascript on Firefox follow:

From your OS, Open Mozilla Firefox and in the address bar type "about:config".
Now click on the "Accept the risk" button.
Now look for "Javascript.enabled" and click on "False".
Done.
4. Use Incognito Mode Trick to your advantage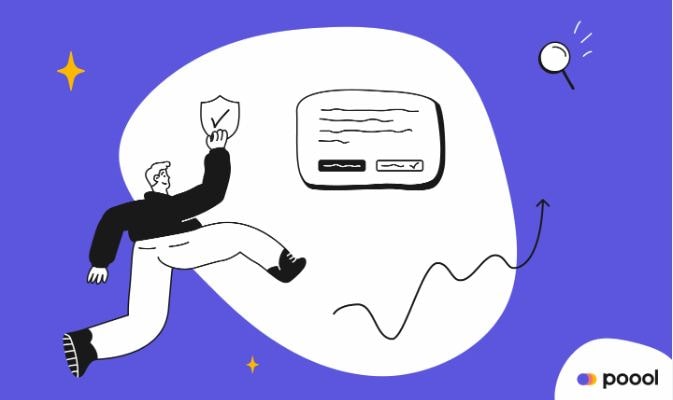 All paywalls are not built in the same way. If a website uses a soft paywall then you might be able to read content that is subscription-based via incognito or private browsing. Now, this shall trick the site into believing that you are a new visitor and thus gives you access to free content before even loading the paywall.
This is a better technique than manually deleting the site cookies. The reason is that many browsers do not transmit pre-existing cookies to the sites you visit in this mode. Though the site shall temporarily deposit new cookies on the device during private browsing sessions, they are removed when the incognito window is closed.
Follow the steps below to read articles behind a paywall for free in Incognito mode:
As a start, press "Ctrl + Shift + N" to open the incognito tab in "Chrome" or "Shift + CTRL + P" in Firefox.
Now, try to visit the website that was blocking the content and see if the paywall is still blocking your view.
5. Reset your browser cookies
Many websites actually save cookies on your browsers in order to track down all your activities like how much content you have accessed. Publishers of blog are able to track down different articles (free) which are read by you using cookies stored on the browser. If you have reached the limit allotted then deleting cookies shall help you to reset the limit.
You need to go to the privacy and setting of the browser and choose the option which allows you to check cookies and data of the site for websites. After this, you need to search for the site in the browser's cookie management page and hit "remove all".
Now, this one is applicable to Google Chrome, Mozilla ForeFox and Microsoft Edge.
This might not work on sites that have a hard paywall, for soft ones you need to delete cookies very time you hit the free article limit.
6. Take a snapshot on an Archive Website
For those who do not know there are internet archiving tools that are able to preserve web page copies and social media posts for reference purposes. The tools can be used to have access to paywalled content and read subscription-based news for articles that too for free. Most reliable options are Archive.is and Archive.today.
You need to visit the archive site in a browser, type and enter the page URL and hit "save".
The tool is used to convert webpage to PNG image. You need to click on the "screenshot this website" option which is present at the top of the result page in order to convert the page to the image file.
Other how to tutorials you may like:
Conclusion
Paywalls can be annoying but if you look at them from the business owner's perspective, that is a way to generate more revenue. However for those who can't afford it can bypass paywalls on Chrome and Firefox and still read their favorite article or news coverage. You can use simple methods such as Incognito mode, archive websites and browser extensions to read articles behind paywalls.