Clipboard managers are a simple software that allows you to manage your copy/paste history and files in a central location. However, the default Windows 11 clipboard manager lacks a nice interface and the ability to organize media and text. To overcome this, we have curated the 12 best Clipboard Managers for Windows 11 that are open source and free.
Clipboard is also known as "pasteboard" which is a location on Windows memory that temporarily stores text or media which is cut or copied. As something gets stored on it, it can be pasted to a new location. It holds the information until the last copy-and-paste function is run. If you reboot it is erased from the Clipboard.
Why use a Clipboard Manager?
Windows 11's built-in clipboard manager is limited and does not allow auto-save and the ability to manage your clipboard remotely. Plus, it is not open source which a lot of users fear using because of privacy concerns, hence why third-party options are available.
This is best explained with an example, Someone might copy information from the word processor e.g. Microsoft Word and then paste it into the email message. If you paste from the clipboard many times then the same information gets pasted repeatedly. If you copy something else then the new one replaces the old one.
Best Clipboard Manager for Windows 11 (Free and Open Source)
There are quite a handful of Clipboard Manager software out there for Windows but not all officially work with Windows 11. Having said that, some that don't even show official compatibility work very well on Windows 11. In our list of the best free Clipboard Manager for Windows 11 we have tested which one works and if they have official compatibility or not in the table below:
Time spent testing and research: 21 hours.
| Clipboard Manager | Compatible with Windows 11 | Tested and works |
| --- | --- | --- |
| 1Clipboard | No | Yes |
| ClipMate | No | Yes |
| Comfort Clipboard | Yes | Yes |
| PhraseExpress | No | Yes |
| Ethervane Echo | No | Yes |
| CLCL | No | Yes |
| Clipboard Fusion | Yes | Yes |
| ClipClip | No | Yes |
| ClipCube | No | Yes |
| Ditto | No | Yes |
| ClipX | No | Yes |
| ArsClip | No | Yes |
1Clipboard – An Open Source Clipboard Manager
This comes with a fluid integration facility into Google Drive. If you want to activate this integration then for this simply log in to your Google account in order to have to access the Drive. You can leave the step if you want to try the clipboard. Dismiss permission by having a security check of permissions that are provided to third-party apps, in spite of the fact you allow the drive to have access to it.
It is rich in features like integration with Google Drive, smart search via clipboard contents using keyboard detection, making important clips with a start, having access to clipboard on major platforms given by users of Google Drive or OneDrive, an attractive interface, and easy-to-configure cloud-sync clipboards.
ClipMate – Overall best Clipboard manager for Windows 11
The best thing about this is it provides max ways for you to work with your clippings collection. As classic view offers you a toolbar with dropdown options, explorer view is an expert management window where you shall be able to group clippings and edit them.
If you intend to keep all your clippings secure it is a great option. The best part is that it features encryption. It has other features like advanced paste which comes with structured data type labels and delineation as well as an integrated screen grab tool with chosen capture.
Comfort Clipboard – Clipboard Manager with auto-save
If you want to keep data that has been clipped ready for use then this is a great option. It is rich in features when compared with other options present on the list. The auto-save feature which is useful in situations where you shut down your system and need copied data from the last session after reboot.
It comes in two different sessions; Lite and Pro versions. The former comes with limited fragment sets which can be saved in its history whereas the latter comes with endless slots with other handy options such as the assignment of hotkey, data encryption, editing text fragments and much more.
Comfort Clipboard 9.5 Download
PhraseExpress 15 – Free Clipboard manager that is very fast
This tool has been designed especially for those who are in need of text separation. It is also known as Text Completion App and works as a compelling clipboard manager. The best thing about this one is that if you keep on writing the same lines again and again it shall insert your commonly used text fast and easily automatically. It also predicts when to add the text.
It comes free with no conditions. If you are a professional user then you shall get notifications which shall remind you that the software is not at all free to use at offices. It has many features among which few would be: a portable version, comes with supports template generation, provides support to encrypted file sync across different machines and is highly customizable.
SEE ALSO: Download Apache Maven on Windows 11 and Manage your projects better.
Ethervane Echo 1.1 – A modern Clipboard Manager
This is yet another option which is a veteran clipboard manager. It comes with a fast search through which you can look up your history very easily. Remember that it does not have advanced filters to sort out its history. As an alternate, you can sort it out by using apps in order to arrange the clipboard.
Though it lacks few features like it does not provide support for non-text data or a quick paste feature due to advanced filters and simple functions, it has made a spot on the list.
CLCL 2 – Great alternative to the default Windows 11 Clipboard Manager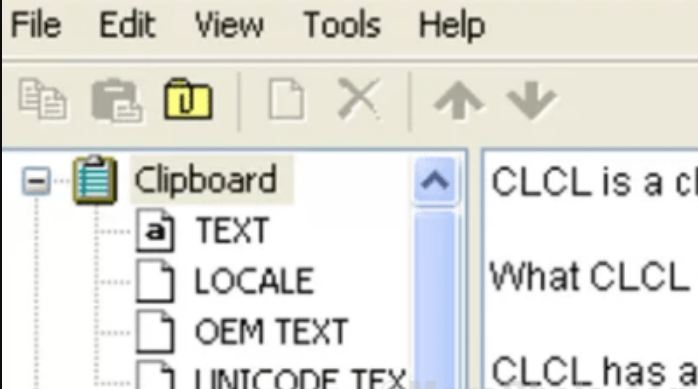 It is quite an easy-to-use tool and you can have access to its history, for this, you simply need to press the keyboard shortcut and then choose an option from the list.
It comes with a decent interface though it does not come with a search function, or save data, texts as well as images in the clipboard.
Clipboard Fusion – Advance Clipboard History features
If you are looking for features that are advanced yet simple then this is a great option. One of its features to look out for is text scrubbing which is great for those who are used to copying text from one app to the other as it deletes HTML tags, formatting as well as whitespace with just the text left in hand.
Moreover, it has many other features like Text Replace through which you can easily find and replace examples of a particular text chain. It shall offer you different hotkeys which means you can scrub text or turn on syncing by using a single hotkey.
Now the best part, is its preview feature which allows you to preview any image which has been copied to the clipboard very easily, this works with HTML color codes as well. It provides support to macros and clipboard syncing.
ClipClip – Powerful Clip editing and modifying 
The reason to have it on the list is its conventional design and options to edit and modify clips when required. There is an interesting aspect that it looks like any other windows application. It makes everything look simple by correctly displaying clips in the primary pane. If you wish to edit any clip then all you need to do is double-click on it and then as per requirement modify it.
It is rich in features and includes the option to save clips in text format, create custom groups, and comes with an integrated translator who is able to translate clips from different languages.
ClipCube – A lightweight choice
This is another option on the list which is light in weight and has an attractive interface. The best thing about this one is that it works as a notetaking application too in addition to being a clipboard manager.
It is simple yet easy to use with fast performance. Now, with this you can edit your last entries easily so that you can make the changes required without any effort. This is a great alternate but comes with a downside that it does not have a search option in Direct Paste Pane. If we talk about functionality then it is quite efficient in its job.
Ditto 3.2 – The most preferred Clipboard Manager
This is a great choice due to the attractive features it offers to users. To use saved data you simply need to press hotkey there on the keyboard and list of data that you have copied recently appears.
If you want to copy this data then you simply need to use the keyboard shortcut and paste it. By clicking on the menu you can select data that has been recently used. The best thing about this one is that it offers an integrated search feature if you cannot find any data.
Ditto Clipboard Manager Download
ClipX 1.0 – A portable Clipboard Manager
This one has the ability to be all portable by using the simple argument for the command line. You can allocate hotkeys to primary and secondary saved pastes from the list of clipboard managers but remember that you cannot allocate a hotkey to a particular phrase. With the help of this, you can cut and paste images and text files.
It comes with6 plug-ins that offer functions like a clipboard lookup, color picker, and a plug-in that inserts sticky clipboard additions you want handy.
ArsClip 5 – Managing your Clipboard is now easy
This is portable software designed for windows 11. It is light in weight and provides support to pictures, formatted texts, HTML and Unicode and also saves images. The best thing is that it lets you edit your clippings to add keystroke emulation which further helps paste text into forms and other complex arrangements.
Moreover, it provides support to switch between groups depending on the program. If a particular set of clipping is being used by you while editing your blog like fix them in a way so that they appear when you are active in Firefox. Along with this is also provides support to files that enable you to save files that are used commonly or pasted ones in the software directly.
How To Use Clipboard Manager History in Windows 11
If you do not want to use any of the above clipboard manager software then that is your own choice. Windows 11 comes with its own clipboard manager that you need to enable to get going!
Follow the steps below to use the built-in Clipboard manager for Windows 11:
Go to "Windows settings".
Now, under the "system tab" click on "Clipboard".
Here you will see various opens including "Clipboard history and Sync across your devices". Enable the first one.
To use the clipboard manager, press Win key + V and it will open for you.
Frequently Asked Questions
Which one is the best Clipboard Manager software for Windows 11?
Windows 11's default clipboard manager is good enough and does the job. However, good enough isn't good! This is where we have our list above which includes Ditto clipboard manager, it allows you to organize where images, text and folders in the clipboard which you can refer back to in a neat and intuitive interface.
Should you use a clipboard manager in Windows 11?
This depends on your purpose and if you are someone who does a lot of Copy/Paste work and needs to remember certain tasks, a clipboard manager can be very beneficial to you.
What are open source Clipboard Managers?
Open source clipboard managers for Windows are the same as closed-sources ones with the major difference being that you can view and audit the code of the open source one. This is important to some as you could be saving important information such as passwords in your clipboard and would want to know if it doesn't;t have a backdoor etc.
Windows 11 compatible software that you may like:
Conclusion
This article has extensively and in-depth has now covered the 12 best free clipboard managers for Windows 11. To keep the playing ground fair, we also included open source clipboard managers due to privacy and security concerns raised by users as we can understand. We also spent a lot of time testing their compatibility with Windows 11 and even though some aren't officially supported such as Ditto and ClipMate, they work flawlessly. Enjoy your copy/pasting!